Mesure d'éternité
Sculpture
Time is stopped, in suspention.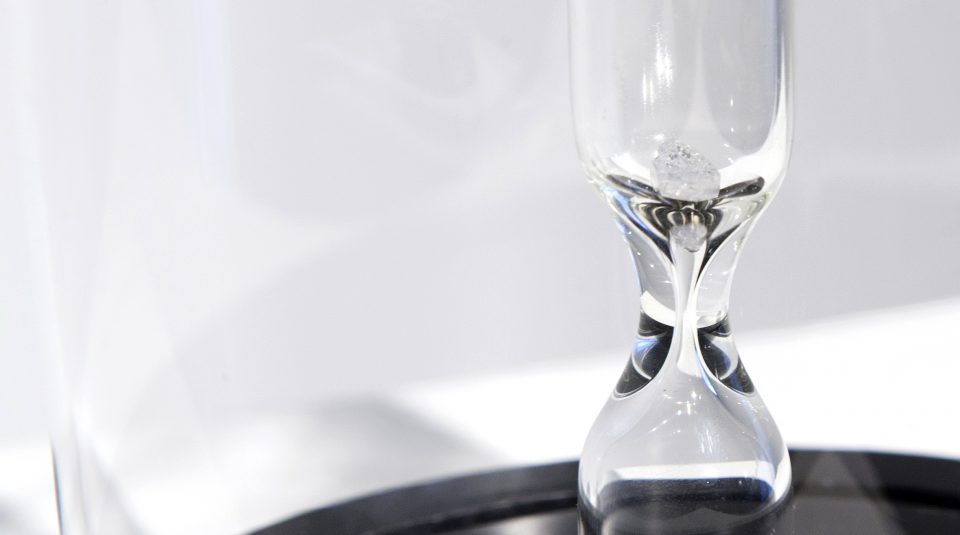 Like an hourglass of modern times, the object of the diamond becomes the metaphor of a tailored sculpted time.
It becomes so precious that it is no longer able to slide delicately without being broken.

This diamond won't fool an expert, even though particularly shiny and translucent, it belongs to the quartz family. From the eponymous mines in the state of New York , Herkimer's diamonds are quartz crystals possessing 18 smooth and brilliant sides. Frequently with impurities, the inclusions of hydrocarbons are visible here. In spite of it's strong benefits and beneficial in lithotherapy, it's nomenclature is a lure.
If the diamonds are the symbol of eternity by excellence and the precious stone sold the most throughout the world, the quartz, the most common mineral in the earth's crust remains particularly used in watchmaking for its qualities of precision and for its sensitivity to changes in temperature causing its expansion.
In this game of false similar visual standards, it's the blurred image of time that is emerging. It's a concept that has gained a market and value, yet an object of admiration and demonstration of success that shows human vanity in his attempts to master it's standards.